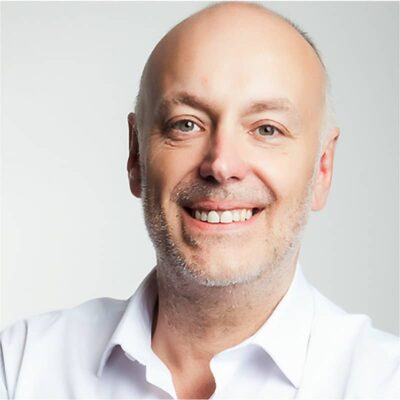 Andrew Scott is an Irish-born entrepreneur and investor. He launched his first business at 19, and went on to build several ventures including a company acquired by a U.S. Fortune 500 company. Today he oversees a group of autonomous, successful businesses that work as one eco-system, with year-on-year growth, 75 employees and a global reach. He is a regular columnist in a number of industry journals and magazines and a sought-after key-note speaker on the latest marketing thinking and business strategy, as well as giving inspirational talks and seminars at business events, conferences and schools/colleges.
In 2017 Andrew was presented with the prestigious Institute of Directors (IoD) 'Corporate Responsibility Director of the Year' Award and was also nominated 'Director of the Year'. He has sat on the Chamber of Commerce committee and the Marketing Communications Council of the GGF in London, and is a Fellow of the Institute of Sales & Marketing Management (ISMM).
As CEO and publisher of Business Leader Magazine, Andrew also works with some of the UK's most influential leaders in business, education and government, financial institutions and high-profile business celebrities and entrepreneurs. This inspired him to launch the Business Leader Awards, a major annual event that showcases the achievements of start-ups, scale-ups and established UK companies and the people who run them. Through Business Leader, Andrew is connected into a network of over 100,000 CEOs, business owners and directors across the UK and further afield. Aside from the Ascot Group Andrew is an investor, mentor and advisor for start-ups and scale-ups. He is Membership Director of The Clifton Club and a member of the Bristol Private Equity Club, a group of experienced business investors.